Management Quote Inquiry
How much will your home rent for?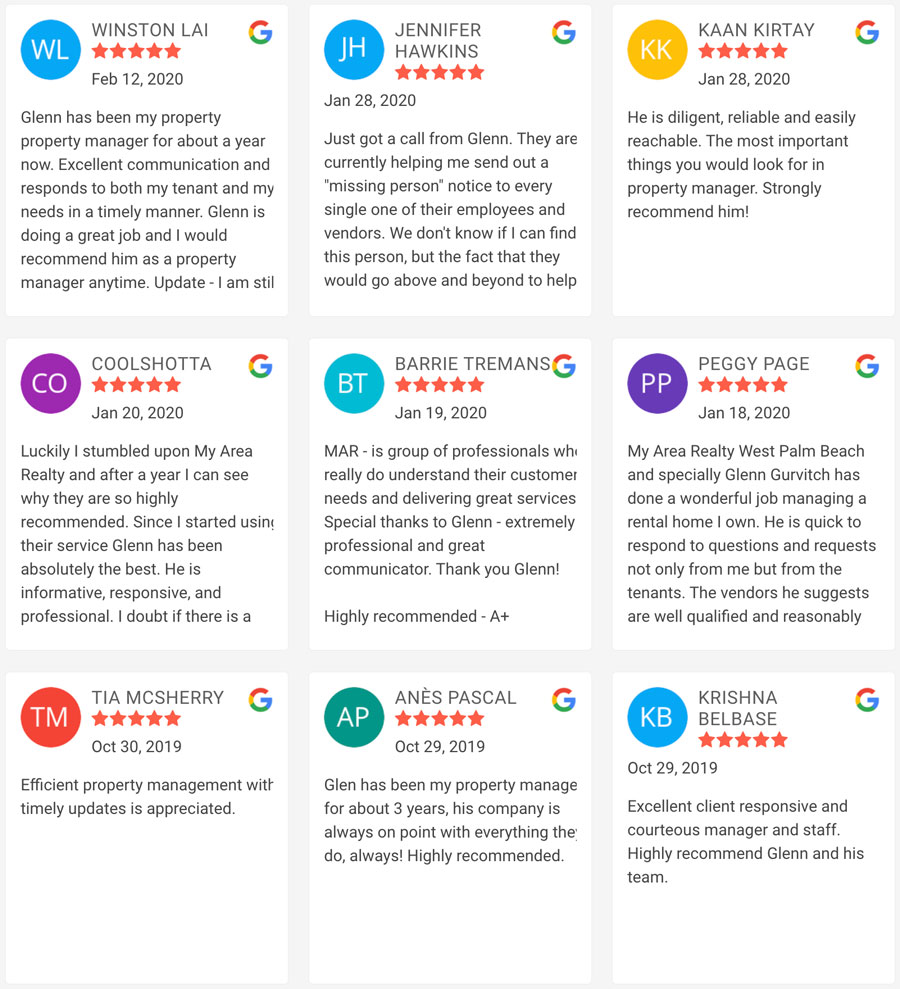 ---
"Christy B. is a great former client of ours. She purchased her property in 2010 and called us to manage her home after she remodeled the house. We placed a qualified tenant in the rental property for 3 years until she decided that she wanted us to sell the home. We thank you for the opportunity for allowing us the the chance to assist you in achieving your real estate goals!" Glenn Gurvitch, Manager
Attorney Prepared Lease
We use an Attorney Prepared Lease that is customized to address many of the pitfalls that come with owning rental property. All leases are Florida Statute compliant and are designed to help navigate the nuances of leasing your property.
Screening
We conduct Nationwide Credit, Criminal and Eviction searches to protect our clients from subpar tenants from renting your home. All applicants begin the rental application process by applying on our website.
Rent Collection
Our online rent collection is seamless and helps expedite tenant payments so you can get paid faster. All owners get paid via EFT with a monthly report.
24/7 Maintenance
Tenants contact us for emergencies 24/7 so we can mitigate your pluming, electrical and AC issues before they become bigger problems.
HOA and City Violations
HOA's and Municipalities cite rental properties for various issues including: overgrown vegetation, leaning fences, missing shrubs, poor curb appeal, broken mailboxes etx. We have contractors that can solve any violation. We also handle tenant application to HOA's.
Monthly Reporting
Once we collect rent and process payment to you via EFT we provide monthly detailed reports showing any approved expenses and income. We do not make any repairs without contacting you directly. We also issue 1099's at the end of the year along with a yearly report.
Floridas Statutes Chapter 83
We administer our leases in accordance with state law and work closely with legal counsel to ensure that we are up to date on the Floridas Statutes and Fair Housing Act. We also return security deposits in accordance to Chapter 83.49 of the Florida Statutes.
Eviction Assistance
Most of the evictions that we start are from properties where we take over a property that is in trouble with a non paying tenant. We will assist you in the entire process and even meet the sheriff at the property to change the locks during the execution of the writ of possession.
Leasing
We lease properties fast! Once we start marketing your home we wont stop until we have your home listed on 50 plus real estate websites. In addition to marketing your property on the MLS we usually have a client in our database that is on the waiting list for a property like yours.